Week 2 Term 3 2017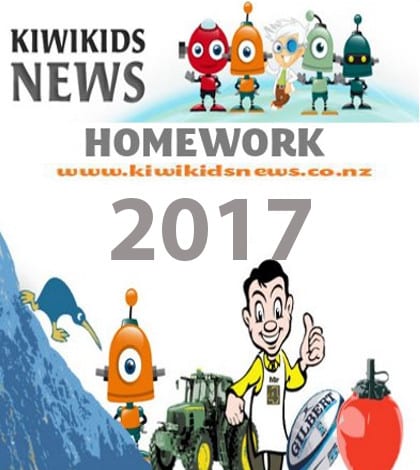 Welcome to the Kiwi Kids Homework page for Week 1 of Term 3, 2017
This page is designed to help you complete your weekly homework tasks. Just scroll down the page over the week and complete all the tasks that need to be completed.
This term our topic is MY COUNTRY. Over the course of this term you are going to complete activities based around this fantastic country of ours.
THIS WEEK'S TASK
This week we are looking at PEOPLE that have made New Zealand the place it is today. You must select one person from the list below. We have tried to select a range of New Zealanders.
Ernest Rutherford (1871-1937) – physicist
Kate Sheppard – (1847-1934) suffragette
Sir Edmund Hillary (1919-2008) – mountaineer and explorer
Sir George Grey (1812-1898) – Governor and Premier
Michael Joseph Savage (1872-1940) – politician
Sir Āpirana Ngata (1874-1950) – Māori politician
Dr Frederick Truby King (1858-1938) – founder of Plunket Society
William Hobson (1792-1842) – co-author of the Treaty of Waitangi
Sir Brian Barratt-Boyes (1924-2006) – heart surgeon
Sir Peter Snell (1938–) runner
William Pickering (1910-2004) – space scientist
Sir Peter Jackson (1961-) – film maker
Janet Frame (1924-2004) – writer
Te Rauparaha (1760s–1849)– Māori leader
Sir Colin Meads (1936-) – All Black
Dame Whina Cooper (1895-1994) – Māori leader
Katherine Mansfield (1888–1923) writer
Te Whiti o Rongomai (c.1830-1907) – Pacifist Māori leader
Richard Seddon (1845-1906) – Longest-serving Premier and Prime Minister of New Zealand
Sir Te Rangi Hīroa (Peter Buck) (1877-1951) – Māori leader
Sir Julius Vogel (1835-1899) – politician
Maurice Wilkins (1916-2004) – scientist Nobel laureate
Helen Clark (1950-) – politician
Mabel Howard (1894-1972) – politician
Dame Kiri Te Kanawa (1944-) – opera singer
Sir Peter Blake (1948-2001) – yachtsman
Jack Lovelock (1910-1949) – athlete
James K. Baxter (1926-1972) – poet
Neil Finn (1958-) – musician
Edward Gibbon Wakefield (1796-1862) – colony founder
Colin McCahon (1919-1987) – painter
Once you have selected your person you then need to research about them. We suggest you complete a google search and try and answer the following questions
1. Who are they – key information.
2. What did they achieve?
3. When did they do it?
4. How did they achieve their feat?
5. Why do you think they are important to New Zealand?
From there you must produce a poster about them which highlights their achievements.

This week you must record your score for the Kiwi Kids News Quiz.
The quiz is live on the website on Friday mornings. Remember that all of the questions for this quiz come from the Kiwi Kids News website so make sure you have spent a little time looking through the events this week.
To view the latest quiz CLICK HERE
KIWI KIDS VOCABULARY ACTIVITY
VOCAB BUILDING – Each week you have to find 5 words from different Kiwi Kids News articles. They should be words that you are not that familiar with.
WRITING –
SPELLING
Use the letters from the 5 words above to create 10 new words. You can use letters more than once.
PUNCTUATION – Rewrite the following sentences using the correct punctuation and spelling.
New zeeland has just one the America's Cup
Bill Inglish is the Prime minster of New Zealand
The whether in the holidays was cold?
"Welcome to my class, said the techer on the first day of the term.