Super sprout stunt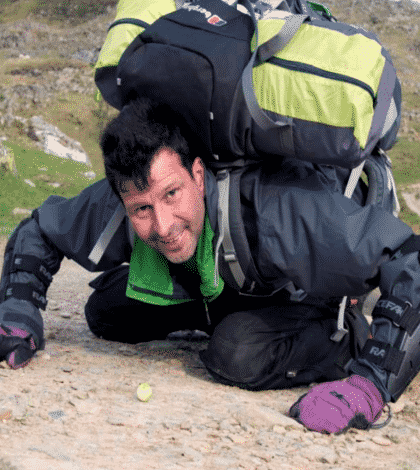 British man, Stuart Kettell is headed up Mount Snowdon in Wales this month, but his journey will be one to remember. To raise money for cancer research, Stuart will be pushing brussels sprouts up the mountain with his nose!
Stuart's trip up the mountain will take place on the 30th of July and he will be followed by a film crew to make sure he doesn't cheat.
So the rocks do not cut his nose, Stuart will wear a special nose guard during his journey, and will carry camping gear and extra sprouts in case they roll away or fall apart.
The goal is to raise $9,000 with his sprout stunt, to add to the $75,000 he has already raised for MacMillan Cancer Research.
Stuart's trip up the mountain is his eighth crazy challenge, his previous stunts including running 7 marathons in 7 days inside a giant hamster wheel, being suspended in the air by helium balloons for 7 days and walking down every street in Coventry on stilts.
Stuart will push the unpopular vegetable up the 1,085 foot tall mountain and has already recorded a test run which took 50 minutes to reach 530 feet.
It is expected to take 4 days to complete the challenge and at least 40 sprouts.
Despite the back pain Stuart will suffer from being bent over for so long, he is determined to succeed.
Good luck Stuart, bet you'll never want to see another brussels sprout in your life after this challenge!
Article written by  D Mulhern