St Andrews win Maadi Cup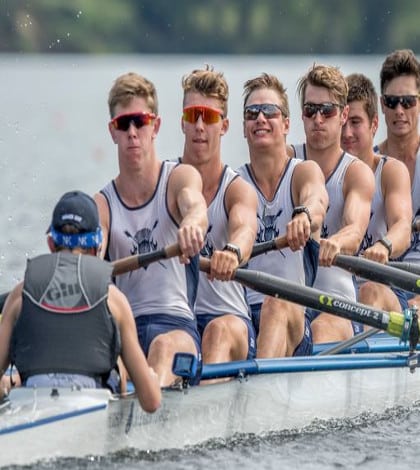 St Andrews College made history by winning their maiden Maadi Cup title at the National Seconday School Rowing Championships on Lake Karapiro.
St Andrews were dominate in the regatta, winning the four's to take the Springbok shield and then backing that up to win the boys eight and the Maadi Cup Trophy.
At the halfway point of the race they looked out of it as they trailed Christ College.
However, they responded in the final quarter to pull off an historic 0.98 second victory from Christ's – the 11-time former champions.
Bronze went to Hamilton Boys High – the winners of the Star Trophy as most successful overall school in the regatta.
Diocesan School for Girls produced a perfectly timed successful defence of the Levin Jubilee Cup with a commanding three seconds victory in the girls eight division.
WHAT IS THE MAADI CUP?
The Maadi Cup is the prize for the New Zealand Secondary Schools Boys' Under 18 Rowing Eights. However, it is the name given to the New Zealand Secondary Schools Rowing Regatta, at which the Maadi Cup is raced.
The regatta is the largest school sports event in the Southern Hemisphere, with over 2400 rowers from 125 secondary schools participating in the regatta each year.
The regatta is held annually in late March, alternating between the country's two main rowing venues: Lake Karapiro near Cambridge (odd years), and Lake Ruataniwha near Twizel (even years).