Snake eats crocodile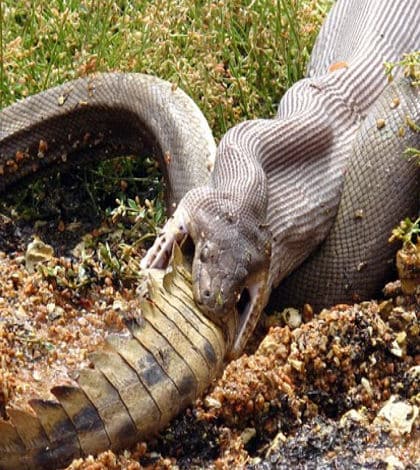 Photographers have captured a dramatic fight to the death between a snake and a crocodile.
The battle occured at Lake Moondarra  in north west Queensland in Australia.
Mount Isa mother Tiffany Corlis captured the contest on camera. She took a series of shots show the snake slowly eating the croc after it had killed it.
Corlis had been enjoying breakfast when canoeists, who witnessed the battle playing out, alerted her to the struggle between the two animals.
By the time Ms Corlis started watching, the snake had already coiled its body around the crocodile and was beginning to strangle it.
She said she was shocked when the snake began to eat the crocodile. "It was just unbelievable, we were sort of thinking the snake had bitten off a little more than it could chew, pardon the pun, but it did actually eat the crocodile."
She says the sight became even more interesting once the snake had finished eating.
Below are a series of images taken by Ms Corlis which show the snake slowly devouring the crocodile.