Naughty penguin of the month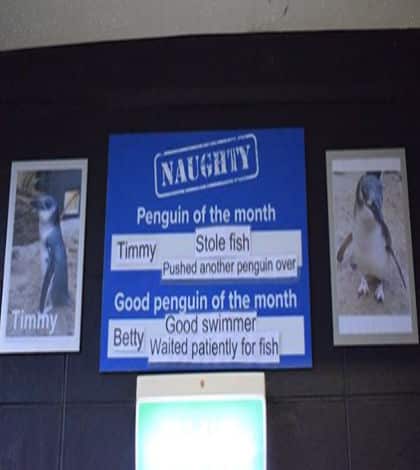 The National Aquarium of New Zealand, in Napier, has shamed their naughtiest penguin!
A picture of the sign was posted on the aquarium's Facebook page on Saturday, and it made its way to reddit, where it went viral.
In the month of June, Timmy the penguin was the naughtiest of the lot, thanks to stealing fish and pushing another penguin over. Tut tut.
Another penguin named Betty was named the aquarium's "good penguin of the month," for being a good swimmer and waiting patiently for fish.
The aquarium's population of little penguins consists of those with "serious injury or have disabilities such as blindness or amputations," according to its website.
"If they weren't at the aquarium, they simply wouldn't survive in the wild."