Cheetah baby boom could slow extinction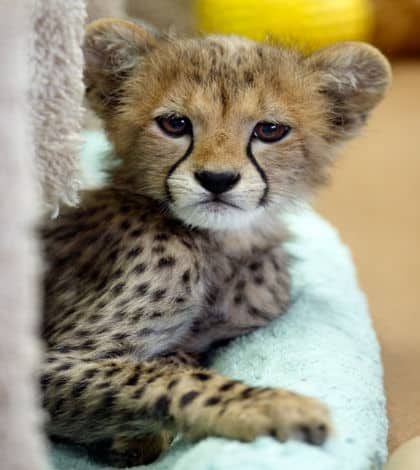 A cheetah sanctuary in the US has seen a boom in the wild cats' population with the birth of 10 new cubs.
The population increase is a big boost for scientists who are working to save the animal from extinction.
In the wild, cheetah numbers are quickly dwindling which has led to scientists at the Smithsonian Conservation Biology Institute in the United States to act.
Scientists put the decreasing numbers down to human intrusion into cheetah's natural habitat.

About Sub Editor
Hi, my name is Rachel. I am married to Shem. We have three school aged children. I love running, going to the gym and crafts.
1. Who is the main person or group of people in this news article?

2. What was the key event from the news article?

3. Where did this event take place?

4. When did this event take place?
1. Find a quote from the main person in this news article?

2. In your own words describe what happened in this news article.

3. Find out where this event took place and include some information about this place.

4. Tell us when this event happened and explain what might happen in the future.

5. Explain in your own words why this event took place.

6. Use the Dictionary in the bottom right hand corner to find the meaning of 3 words from the article.
Current Events Web
Find the Who, What, Where, When, How and Why in the article to complete this worksheet.

I Think Because
Share what you think about the article and explain why.

My Questions
Write a question map about questions that you have after reading the article.

News Review
Give the news article you have read a review

KWL
Write what you KNOW about the topic in the article, what you would LIKE to find out and then what you have LEARNT.

Newspaper Bingo
Play newspaper bingo. Find a number of different articles to complete the grid.

Questions and Answers
Write a set of questions and then their answers after reading the article.

The Big Idea
Find the big idea by highlighting the 5 W's and 1 H. then select 25 of key words associated with the article.

Word Investigation
Vocabulary exercise where students find key words within the article.