All Blacks beat Lions in first test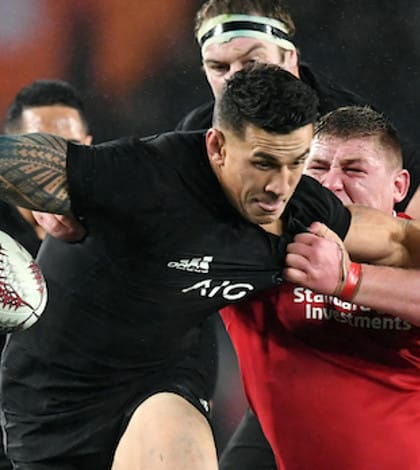 The All Blacks have beaten the Lions 30-15 in Auckland after a dominating second half, which included two tries from winger Rieko Ioane.
They now have a one-nil lead in the three-Test series.
The first half at Eden Park was a tight affair, but the British and Irish Lions were not able to capitalise on their opportunities.
The All Blacks scored the first try, through hooker Cody Taylor. However, The Lions struck back with a superb try from within their own half to narrow the halftime lead to 13-8.
In the second half, rookie Rieko Ioane scored the All Blacks' second try, which was set up by a superb scrum and the All Blacks extended their lead to 20-8.
Minutes later Barrett kicked another penalty and the Lions started to struggle, holding off a relentless All Blacks attack.
Ioane put his blistering speed to full use when he scored his second try off a turnover, and with Barrett's conversion the All Blacks went up 30-8.
In the last minute of the game, Rhys Webb scored a consolation try for the Lions.
The Lions play the Wellington Hurricanes on Tuesday before the second test next Saturday in New Zealand's capital.
The series concludes on July 8 with the third test in Auckland.
Rieko Ioane of New Zealand heads for the tryline against the Lions in the first International rugby test between the the New Zealand All Blacks and British and Irish Lions at Eden Park, Auckland, New Zealand, Saturday, June 24, 2017. Credit:SNPA / Ross Setford **NO ARCHIVING"
Anton Lienert-Brown of New Zealand tackled by Liam Williams of the Lions in the first International rugby test between the the New Zealand All Blacks and British and Irish Lions at Eden Park, Auckland, New Zealand, Saturday, June 24, 2017. Credit:SNPA / Ross Setford **NO ARCHIVING"
Anton Lienert-Brown of New Zealand with support from Keiran Read of New Zealand against the Lions in the first International rugby test between the the New Zealand All Blacks and British and Irish Lions at Eden Park, Auckland, New Zealand, Saturday, June 24, 2017. Credit:SNPA / Ross Setford **NO ARCHIVING"
Beauden Barrett of New Zealand kicks a conversion against the Lions in the first International rugby test between the the New Zealand All Blacks and British and Irish Lions at Eden Park, Auckland, New Zealand, Saturday, June 24, 2017. Credit:SNPA / Ross Setford **NO ARCHIVING"
Aaron Smith of New Zealand chased by Sam Warburton of the Lions in the first International rugby test between the the New Zealand All Blacks and British and Irish Lions at Eden Park, Auckland, New Zealand, Saturday, June 24, 2017. Credit:SNPA / Ross Setford **NO ARCHIVING"